Rite in the Rain Field Interview NTBK
The Rite in the Rain field interview notebook is a loyal partner to law enforcement officers. Our patented weatherproof paper preserves important case notes and witness testimony from poor weather and daily wear-and-tear. Our tough and flexible polydura cover protects against splashes and abuse, and our impact-resistant Wire-O binding won't get bent out of shape. Inside, each page features a helpful data entry template and a ruled side for spare notes. An officer's notes can make or break a case – keep yours safe on Rite in the Rain All-Weather Paper.
COVER
COLOR: Black
MATERIAL: Polydura, 19 gauge
REFERENCE: Imperial & metric rulers, Miranda Rights (inside cover)
BINDING
STYLE: Wire-O
PROPERTIES: Rust-resistant
FINISH: Rounded corners
ALL-WEATHER PAPER
COLOR: Gray
SHEET SIZE: 3″ x 5″
PAGES: 100 pages / 50 sheets


WEIGHT: 20# 

Rite in the Rain


PERFORATED: No
PAGE PATTERN


PATTERN: Feild Interview Form (front), Notes (back),

View sample pages
INK COLOR: Dark Gray


NUMBERED: No
SINGLE UNIT
SIZE: 3″ x 5.25″ x .375″
WEIGHT: .12 lbs
MANUFACTURED: U.S.A.
PACKAGE
QTY: 1
SIZE: 3″ x 5.25″ x .375″
WEIGHT: .19 lbs
IDENTIFICATION
ITEM NO: 104
UPC: 632281104117
NSN: 7530-01-536-2653
ISBN: 978-1-932149-92-0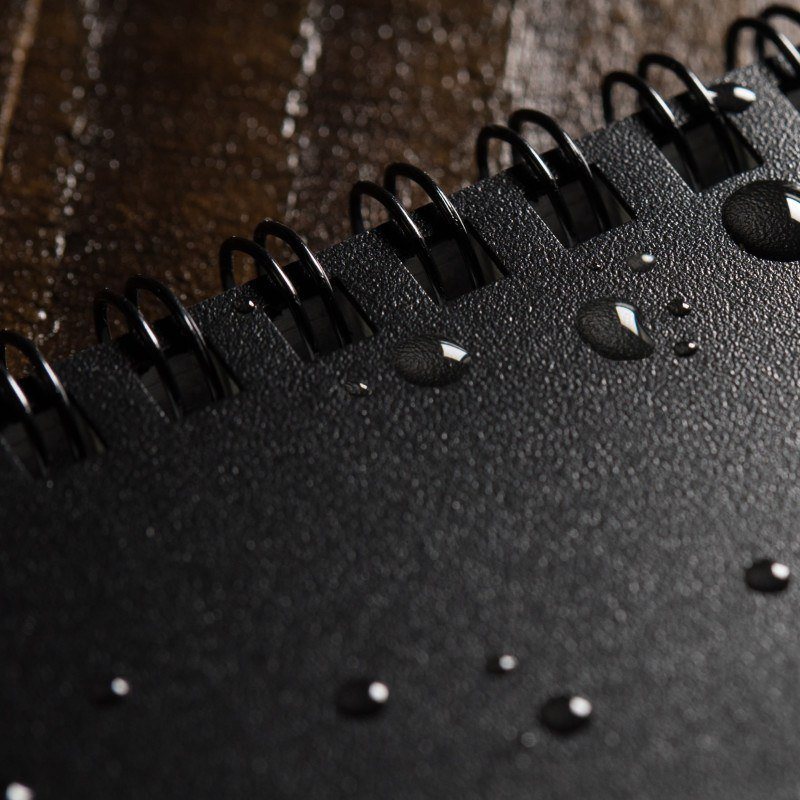 WIRE-O BINDING
Impact-resistant Wire-O doesn't get bent out of shape when tossed around in packs or your uniform pocket.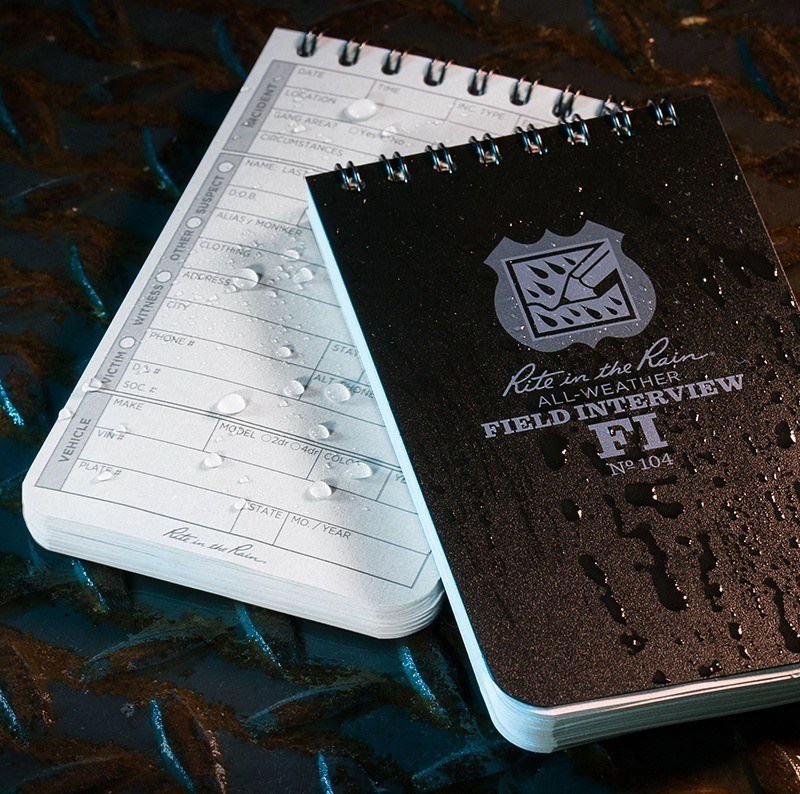 FIELD INTERVIEW FORM
A tough Polydura cover protects this form, designed to assist with Field Interviews during investigations.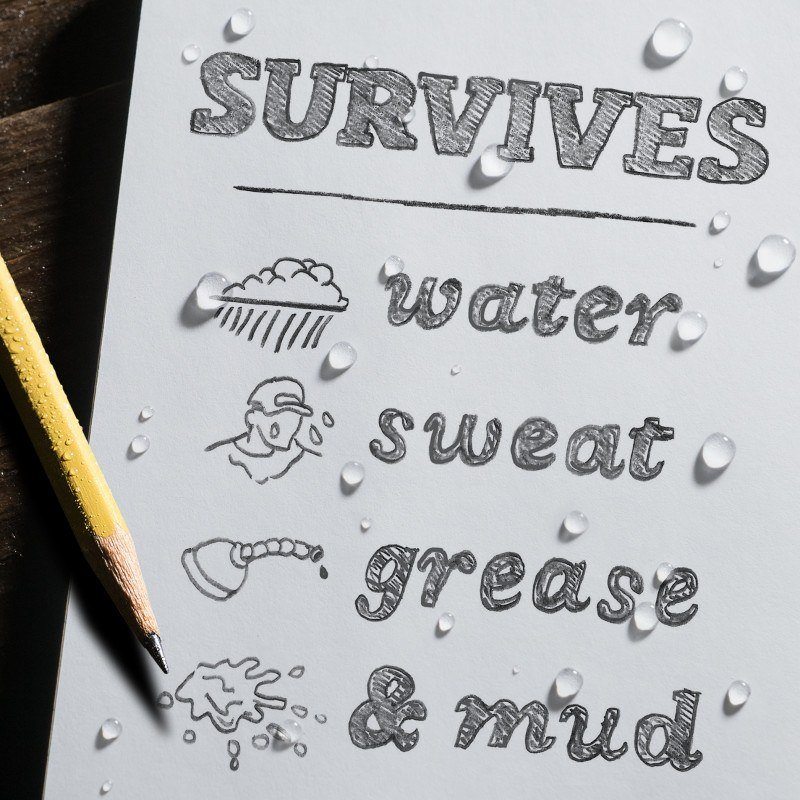 DEFEND YOUR NOTES
Defend your notes against the elements with water-resistant Rite in the Rain Paper.
SPECIFICATIONS
ITEM
N

°
104
FIELD INVESTIGATION NOTEBOOK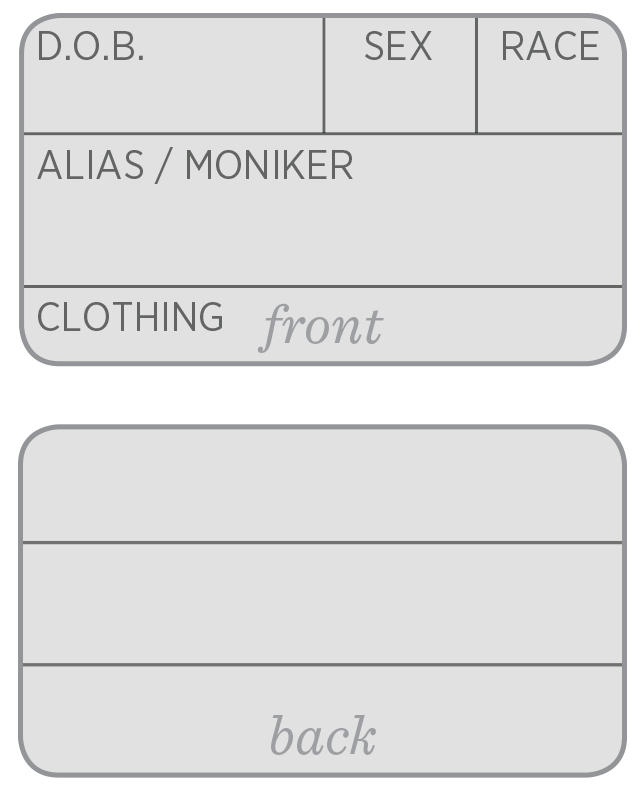 Police Officer, Ron S. has served Washington state for over 20 years – he's seen it all. Bad weather and dangerous calls have come and gone. Whether he's conducting a field interview, logging evidence, or tracking range time, Rite in the Rain is a trusted partner and a staple of the job.